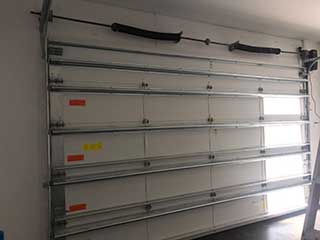 Your garage door relies on a system of springs to support its weight and help it move. If the condition of these components becomes compromised, they can end up snapping and hurting someone standing nearby. The danger isn't over after a spring breaks, as replacing these components is requires a lot of experience and skill, and any mishandling can lead to a serious injury.
Rust Is A Veritable Plague
The type of work which your garage door spring will require depends on the cause of its problem. If the spring is covered with rust and makes sharp squeaking noises when the door is in motion, then it will need to be cleaned and lubricated. The cleaning process involves the application of a solvent which will help remove the rust from the coils. In some cases, steel wool has to be used to remove particularly thicker layers. It is best if the lubricant which is used for quieting the spring is the one recommended by the manufacturer of the door.
Some Things Are Beyond Repair
In the case of a severely damaged or broken component, spring replacement will be required. This is the most effective solution in such situations, as trying to repair these components can sometimes be too risky to be worth the effort. This type of work involves the removal of the old component and the installation of a new one in its place.
Longevity Is Not Unachievable
With regular spring maintenance, you can prevent a lot of different issues from occurring, as well as keep these components in a good working condition. By having our technicians lubricate and adjust the tension of your springs on a regular basis, you'll be able to increase their functionality and prevent them from prematurely breaking.
Contact Us Today
If you find yourself experiencing any type of spring related problem, don't hesitate to call us. Our technicians at Garage Door Repair Lawrenceville can help you whether you have torsion or extension springs, it doesn't matter which as we are experts at handling both types.
Want more? Let us take care of:
Roll up Garage Door Maintenance
Galvanized Torsion Spring Installation
LiftMaster Garage Door Opener Repairs
Track Replacement & Repair