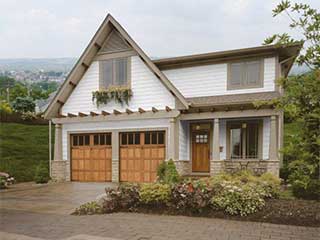 Investing in a new garage door is a big deal. It's something every homeowner should consider at least every couple of decades. But finding the right model for you isn't always as easy as it may seem. Such a decision requires serious contemplation, as your new door will serve your family for many years and therefore will have to meet some requirements and improve or preserve certain aspects of your home. The needs of each person can vary in terms of needing extra support, as is the case in hurricane-prone areas, or specially designed galvanized garage door parts for high moisture regions. Backroom and headroom are also important factors to consider, as some homes have limited space.
Plenty Of Choices
Our company's intention is to offer our customers a long list of quality options and provide them with professional consultation every step of the way. We have a wide variety of Clopay and Amarr garage doors models for you to choose from. These two companies are renowned for their reliable products and their constant efforts to be environmentally friendly as they can while still adhering to the highest possible quality standards.
Amarr's Wonderful Curb Appeal
If beautiful door design and style are your first priorities, Amarr's different collections can be an ideal choice for you. Not only are they beautiful to look at, but they are also wonderful insulators that can help you maintain a desired indoor air temperature. The company recycles steel and aluminum and reuses them for the construction of new doors and parts. Their main breakthrough is the patented safe guard feature that provides extra protection from accidents. With its pinch protection sections, your fingers won't be caught in between panels.
Clopay's Safety and Security Features
With a massive choice of various materials and choices, Clopay is another great option for people looking for "green" garage doors. The company also invests in the energy efficiency of its products as well. One of the greatest things about Clopay is that they offer durable components and patented safe T-brackets that ensure higher safety and strength. They also manufacture "storm ready" doors which will only need to be locked during a storm and are already insulated and ready to withstand mother nature's tantrums.
Leave It To Us
The garage door installation process is quite complex, and can even be dangerous when performed by amateurs. Not only will our team at Garage Door Repair Lawrenceville help you choose a wonderful new system, but we will also install it for you and make sure everything is up to par. Call us today for more information.