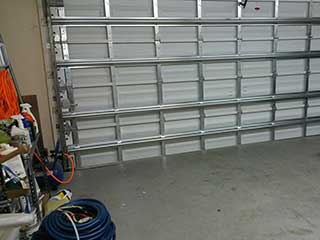 There are a lot of parts of your automatic garage door system that can greatly benefit from being regularly maintained. They will be able to continue working optimally for a lot longer and will suffer from less wear and tear damage.
Full Care for Cables and Springs
Did you know that the springs are the ones who do all the hard work when it comes to opening and closing your door? The opener is the engine that provides the system with the necessary horsepower, but it's these components that do all the actual "heavy lifting". That's why making sure they remain in a good working condition is so important. A broken spring can cause your door to slam shut and become inoperable, not to mention pose a serious risk to your safety. The same goes for cables, as they are the ones who pull the springs and therefore the door too, and if they break or become frayed, they can cause your door to tilt or potentially even collapse.
We'll Keep Them Optimal
Whether you have extension or torsion springs, you can count on our team to keep them at an optimal performance level. We'll test them to make sure their tension isn't too loose or too tight, and perform the spring adjustment process as necessary. Lubrication is another aspect of our regular spring maintenance service, as it allows these components to work more smoothly and effortlessly.
Keeping Openers In Great Shape
Our maintenance work on your garage door opener begins with inspection and testing. After checking the hardware, like the rail, the drive system and the motor gear and circuit board, we'll move on to test the safety sensors. These components are in charge of detecting an obstacle in the door's path and reversing the closing action accordingly, so their correct alignment is incredibly important. We'll check the opener's closing force too. It has to correspond to the door's weight, which can experience fluctuations between the seasons, no matter whether the unit is made of steel, wood or vinyl. If the force isn't optimal, rely on us to adjust it accurately straight away. Lubrication is also an important part of maintaining the opener. We'll lube the sections where there is friction between the rail and the trolley.
Every Hardware Part
There are a lot of other parts of your system that will need to be taken care of. The hinges, the drums and even the tracks and rollers can all become damaged, rusty or otherwise compromised. By having our experts at Garage Door Repair Lawrenceville regularly inspect them and address any discovered issues on the spot, you'll be effectively reducing the chance that your overhead door system will suffer from a malfunction. Contact us to schedule an appointment today.
Let our team take care of it for you!
Garage Door Safety Inspections
Belt Drive Garage Door Openers
Broken Spring Replacement & Repair
Emergency Garage Door Services